Pauline's work can also be found in the
Pantry Cafe Midleton,
a relaxing venue with lovely bakery, it
is situated in the distillery walk.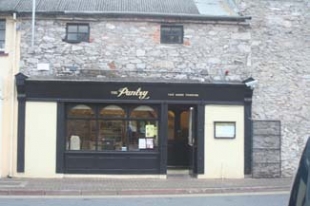 Pauline has
a great interest in science and how it relates to the living world. This includes plants, animals, humans and the landscape we live in. She believes that most people are too busy with the worries of life to stand back and contemplate what beauty really exists on this earth. An uplifting painting in someoneís home can help remind them of the wonders that life has to offer.
Pauline believes that you need go no further than the eyes of your family pet to know that there are other souls on this earth besides humans and she hopes through her paintings to help people appreciate how wonderful the living world is; she wants them to cherish and protect it; to love Godís handiwork and to preserve it for the future.
Before she starts painting she spends a lot of time thinking about her subject, and working out how she will make it larger than life. The picture must be well composed and the look of the animal and the background must be just right.
She gathers good, clear reference photos, making sure she has full permission to use them; but having done that she endeavours to put a little of herself into the work; after all if all you wanted was a clear image of an animal you might just as well hang the photograph on the wall.
Then she decides what techniques to use. She likes to put textures into the paintings and this can mean using acrylic sculpting medium or sand or other things such as salt. It can also mean painting up to five layers of fur. She does this in white and then glazes each layer with a different colour to give depth. She likes to attempt new things as this helps her to learn and to keep things fresh.
When she is nearly finished she carefully checks the details particularly making sure that the shading is right because this is what makes the work three dimensional.
Pauline is quite self-critical but if people have an emotional reaction to her work; if they can see or at least wonder what the animal is thinking she knows she has done a good job.